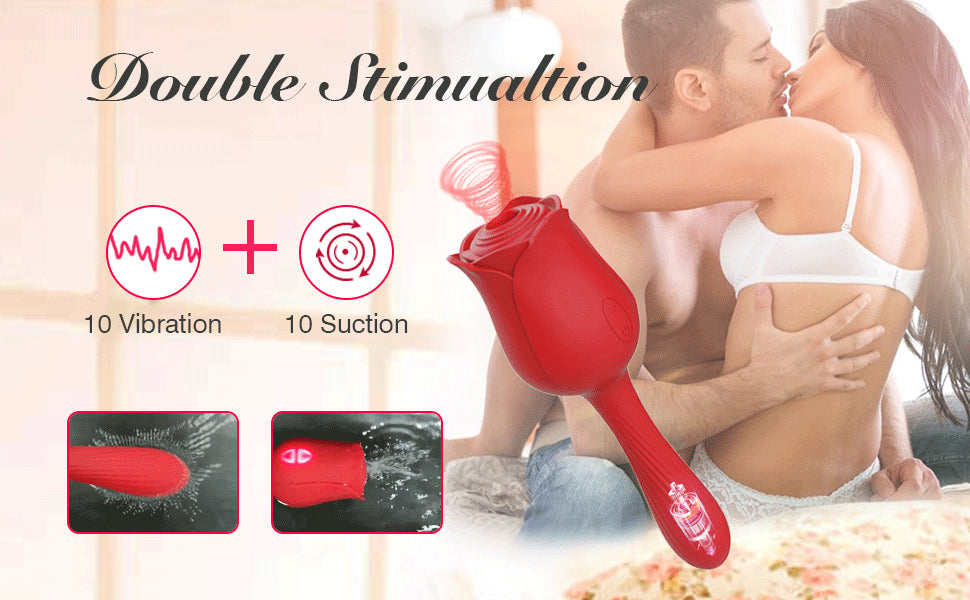 Highlights:
The look of fiery red rose, ignite your every night
Easy-to-hold shape, help to live a passionate yet convenient sexual live
10vibrating intensities & 10 suction modes, create double delightful sensations
100% waterproof, convenient for cleaning
Body-safe and skin-friendly silicone, pain-free skin touch
USB magnetic charging feature, recharging becomes a breeze
Description:
Ignite your passion with the fiery red rose. This dual-function pleasure device embraces the allure of a blooming rose while offering an array of enticing features. The blooming rose serves as a suction stimulator, with a central suction hole providing 10 distinct frequencies to tantalize your nipples, clitoris, labia, and any desired erogenous zones. Meanwhile, the stem doubles as a vibrating wand, delivering 10 pulsation patterns to delve deep inside and satisfy your most intimate desires. The textured ridges along the stem not only enhance the pleasure within, creating delightful friction, but also ensure a secure grip when the stem serves as a handle, preventing any accidental slips while indulging in the suction sensation.
Beyond its multifunctionality, this exquisite pleasure toy boasts exceptional waterproof capabilities and the convenience of magnetic charging. It effortlessly accompanies your water-based adventures, making every bath or shower a sensual delight. With its magnetic charging feature, recharging becomes a breeze.
Rest assured, safety is a priority. Crafted from high-quality silicone, this pleasure device eliminates any concerns about harm to your intimate areas. The flexibility and adaptability of the silicone material further enhance the toy's ability to snugly fit your unique contours, ensuring an intimate and comfortable experience.
Allow the fiery red rose to ignite your desires, creating a symphony of pleasure that leaves you craving for more. Surrender to its seductive charm and let it guide you to new heights of ecstasy.
Specification:
Overall length: 7.83 inches
Width of the rose part: 2.2 inches
Diameter of the sucking hole: 0.6 inches
Width of the insertable handle: 1.06 inches
Material: silicone
Charging time: 2h
Using time: 1h
Max noise: < 60db
Packing list:
1* Vibrator
1* Charging Cable